Apprenticeship & Training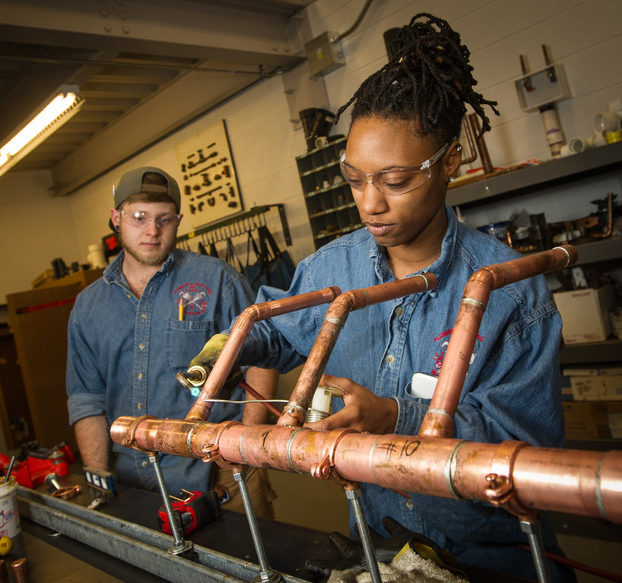 The construction industry is, by its very nature and ranking from the Bureau of Labor Statistics (BLS), among the most dangerous industries. Workers perform difficult physical labor and are often exposed to extreme temperatures, heavy machinery, and toxic substances. To guard against these inherent dangers, promote first-rate work and ensure the highest safety standards that keep construction workers safe on the job site, workers must receive the highest quality training.
Therefore, workforce training is at the foundation of the core mission and existence of each building trades union. Simply put, workforce training is what building trades unions do best. Together with our affiliates, we are committed to training the men and women of North America, using the registered apprenticeship model, with a total annual investment of nearly $2 billion in private funding and over 1,900 training centers.
Enacted in 1937, the National Apprenticeship Act established the registered apprenticeship system. Commonly referred to as the Fitzgerald Act, the Act ensured apprenticeship training included three main components: related technical instruction, a written apprenticeship agreement, and third-party validation. Together, these three pillars continue to ensure the well-being of the individual apprentice and serve as the cornerstone of all registered apprenticeship programs.
NABTU registered apprenticeship programs are the gold standard for workforce training. These world-class, state-of-the-art, tuition-free 'earn as you learn' programs are regulated by the US Department of Labor or state labor departments, and they allow an individual to learn the breadth of a construction occupation, combining classroom learning with on the job training and progressively increasing wages and benefits.
For more information on NABTU's Apprenticeship and Training Programs, click here.