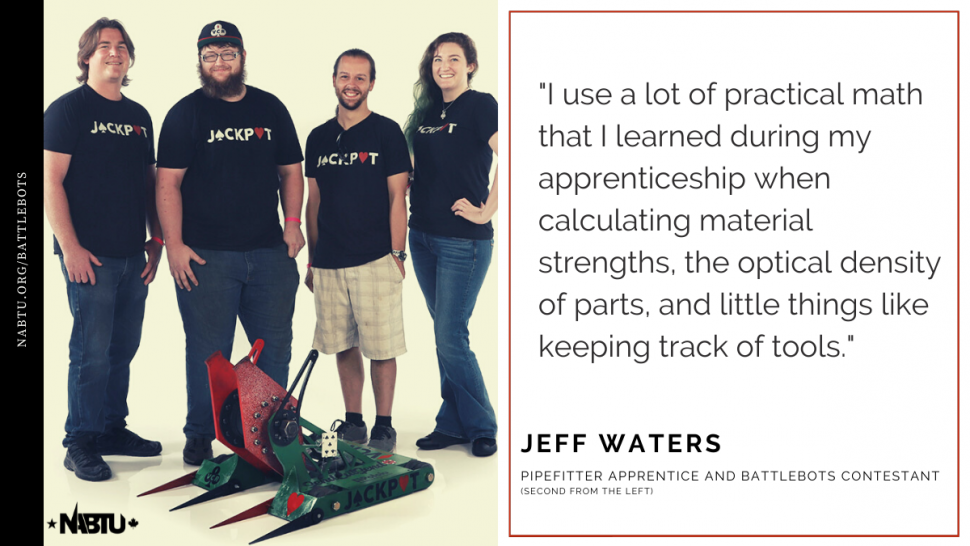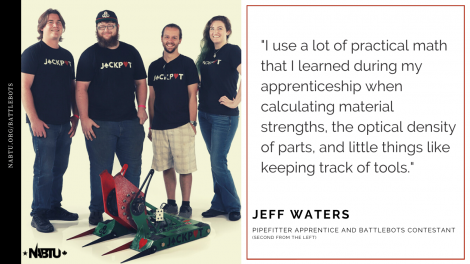 NABTU's world-class apprenticeship and training model provides eager participants with an opportunity to earn competitive wages and benefits while honing the skills needed to safely learn their craft. Apprentices receive state-of-the-art, technologically advanced, industry-sanctioned training from the construction industry's finest instructors and leave with invaluable skills to set each graduate up for success.
Registered Apprenticeships instill the proper problem-solving skills, STEM education, and overall creativity to enhance participants' abilities to the point where they can carry them into everyday life. Take Jeffrey Waters, for example. Jeffrey is a third-year pipefitter apprentice with UA Local 525 in Las Vegas. He utilizes the skills he has learned so far to – in his spare time – build BattleBots. Jeffrey takes these robots, like 'Jackpot,' and competes on a nationally-televised, tournament-style series against other robot creators.
As you can see, apprenticeships prepare you for much more than you could ever expect. Join us, as we follow along in support of Jeffrey's ongoing BattleBots journey! This page will keep you updated with the latest on Jeffrey's progress throughout his tournaments and provide resources not only to learn more about his Building Trades background, but also to better understand how STEM classes and apprenticeship training can prepare you for a career in the trades and some great fun on the side.
HOW TO WATCH: BattleBots airs Thursdays at 8pm ET on Discovery and streams on Discovery+. For live updates on Twitter, follow @BattleBots.