H2H DIRECTOR MARTIN HELMS EARNS ARMY CHIEF WARRANT OFFICER 3 PROMOTION
Washington, D.C. – June 3, 2022 – Last month, Leadership from the Ohio Army National Guard gathered in Ohio to issue the promotion of Chief Warrant Officer 3 to Martin Helms. Helms also serves as Helmets to Hardhats Executive Director. North America's Building Trades Unions President Sean McGarvey issued the following statement celebrating this great honor: 
"NABTU congratulates our H2H Executive Director, Martin Helms, on his recent promotion to Chief Warrant Officer 3 in the Ohio Army National Guard. Martin began as a soldier looking for a new career path when he first learned about H2H. With hard work and dedication, he leveraged Helmets to Hardhats as a launching pad that changed the trajectory of his future. H2H is among the premier career pathways for those transitioning from the military to civilian life and, as Martin demonstrates, there is no better way than living proof to demonstrate this program's transformative impact. Martin's commitment to public service and devotion to veterans and NABTU's core values enable him to proudly lead Helmets to Hardhats while continuing to serve his country.
"Transitioning through Helmets to Hardhats is not the end of the book. It is the beginning of a new chapter that each transitioning servicemember gets to write. We just get to help sharpen the pencil."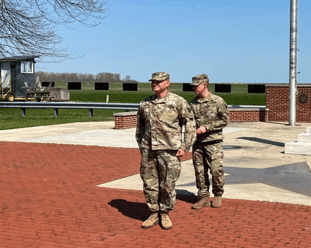 Read more about Martin Helms below:
Martin Helms leads Helmets to Hardhats, but his Union career began as an IBEW apprentice and developed into being a Journeyman, Foreman, and then the Training Director for his local apprenticeship program. As a successful Helmets to Hardhats (H2H) participant from 2005, Brother Helms has a passion for the program's mission and a special understanding of the career pathways that H2H provides. With over twenty-two years of ongoing service in the Army National Guard, years of joint labor-management apprenticeship experience, and an associate's degree in Electrical Maintenance Technology from Stark State College, he brings strong training, management, military, and recruitment experience that the organized trades need for veteran recruitment. He has personally experienced the struggles of transitioning from military to civilian employment, which makes him compassionate for other service members. 
Now, Brother Helms is opening a new chapter for Helmets to Hardhats by making his mission of paying it forward to other service members and veterans to make them aware of the awesome opportunities in the organized construction trades. Though Helmets to Hardhats can be credited with leading to many of the successful opportunities he has had, his family is the rock behind everything."
###