Union Chips in to Give Community Center a Makeover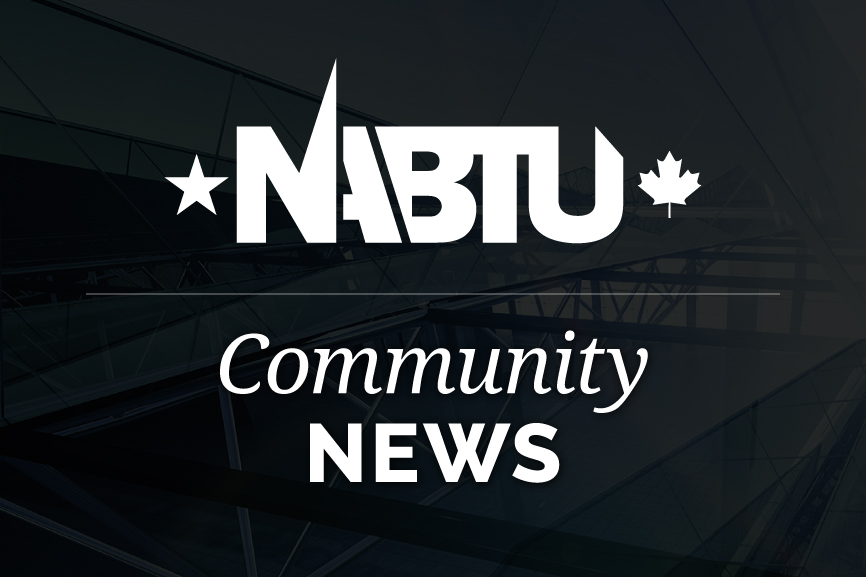 Some things are worth more than money — like taking time out of a hectic schedule to lend a hand to an organization that helps many others.
Some 50-odd people donated the sweat of their brow, some dirty fingernails, and a sunny Saturday morning to spruce up the Kingsbridge Heights Community Center on Nov. 16.
Rebuilding Together NYC, the local chapter of a nationwide nonprofit dedicated to improving housing, teamed with electricians from Local Union 3 IBEW for the union's day of service. Volunteers were everywhere, inside the century-old building at 3101 Kingsbridge Terrace and out. A small army of folks in protective coveralls took paintbrushes to seemingly every surface. The sounds of hammering and power saws rang through the halls.
In the center of the work crew, Rebuilding Together's construction manager Terry Scott oversaw the rewiring and renovation of KHCC's computer lab.
The lab "used to have these crappy, peeling laminate countertops," Scott said. "It's unappealing. Right? We're here to give the people that the community center services a welcoming environment to use."
New electrical outlets, new flooring, new paint — The computer lab was taking on a new, modern appearance.
This wasn't the first mass effort to give the KHCC campus a facelift. She Builds, an arm of Rebuilding Together that focuses on women-led leadership and training, called out about 120 volunteers in September. They laid the groundwork for many of the projects that were finished and polished by the Rebuilding Together and Local Union 3 team.
Outside, a crew finished work on the new amphitheater. During the She Builds event, workers found the timbers in the bleachers were rotted, Scott said. New wood was brought in and crews continued to refurbish the space to look as good as new.
All the work represented an enormous help to the center — work that would be challenging for any nonprofit organization to afford to refurbish its space.
"We've probably done upwards of $50-60,000 worth of in here," Scott said. "I mean just the paint alone … was a $10,000 donation."
But that's what Rebuilding Together is about. It started in 1973 by neighbors fixing up community homes, growing from a small Texas group to 120 affiliates and more than 100,000 volunteers across the country.
Most people who sign up to help are new to construction work, Scott said.  A plumber by trade, he got involved with Rebuilding Together in his native Oregon, and ended up in New York to help clean and restore neighborhoods after Hurricane Sandy. Volunteers came from everywhere to help with cleanup and the rebuilding left in the storm's wake.
Rebuilding Together has four missions, beginning with doing needed repairs and upgrades to homes of low-income families, making homes accessible for older people and those with disabilities, using corporate donations to improve housing projects and community centers.
"Then the fourth program is our work force training initiative started four years ago," Scott said.
Federal dollars set aside for Sandy recovery provided a unique opportunity for young people seeking on-the-job trade skills. The local Rebuilding Together chapter received a $200,000 federal grant to pair trainees with skilled tradespeople in apprenticeships, Scott said. They graduated 100 students the first year, each with certified training needed to walk onto a jobsite and begin working.
Each received a $1,000 stipend to buy hardhats, toolbelts, work boots, and any other necessary equipment.
Working alongside the Rebuilding Together volunteers were local chapter members of the International Brotherhood of Electrical Workers, spanning the five boroughs, Westchester County and Connecticut.
"We're the Electrical Workers Minority Caucus, a group within the IBEW," said its president, Wendell Yee. "It was basically formed to help minority electrical workers come together, get work skills and leadership training, and move up within the IBEW."
One of the union's missions is to encourage young people leaving high school to consider all their career options before filling out a college application.
"A lot of people don't think of being in the trades as a good opportunity," Yee said. "Everybody's pushed in high school these days to go to college, and college is the only meal ticket you can count on."
Instead of being saddled with tens of thousands in debt, he said young people can make a living wage after some workplace training and certifications without taking out massive student loans.
Instead of the stereotypical image of a middle-aged white guy wearing a toolbelt, the newest generation of electricians is quite diverse. Many of the electricians wiring outlets and installing switches were young, female and minority. Caleen Davis was among them.
As a young woman of color growing up in the Bronx, she was too poor to afford college but not poor enough to qualify for government tuition grants. She drifted from one unfulfilling, low-wage job to another until she found Non-traditional Employment for Women, or NEW — an organization that matches women to trade jobs.
Davis learned basic skills like worksite safety, and how to lift and carry things to avoid injury.
"And then at the end of the program, you choose the top three trades that you would want to get into," she said.
Electrician was her first choice. An apprenticeship with Local Union 3 opened, and she began training with an experienced electrician, learning how to safely work with the exceedingly useful — and potentially deadly — force of energy.
The union helped Davis find jobs, and she knew the union was behind her if someone on a job treated her differently for her gender or her race.
Six years later, Davis is an old hand at wiring. No desk job can compare to the feeling when the lights come blazing on inside an entire office building that you've wire yourself, she said. And nothing is more satisfying than lending a hand to an organization like KHCC that does so much for the community.
"I feel like the work I did in these buildings will live on, even long after I've passed on," Davis said. "I feel like I'm leaving a part of myself in this city."
Original Article from Riverdale Press