Traditional Infrastructure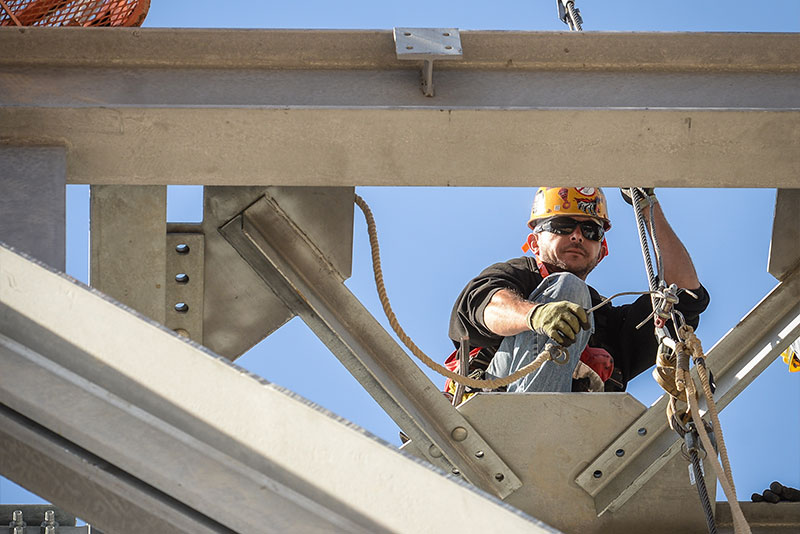 North America's Building Trades Unions (NABTU), along with its fourteen affiliated unions representing nearly three million skilled craft professionals in the United States and Canada, and its contractor partners, supports a broad based, aggressive investment strategy to meet our infrastructure needs and provide for sustained job opportunities for our members.  In order for the United States to achieve its maximum economic potential in the 21st Century, the U.S. must have an infrastructure system that provides the foundation for a dynamic 21st Century economy.
Specifically, we jointly call for a broad and bold infrastructure plan that:
Fixes our roads and bridges that are in dire need of repair.  With over 50,000 bridges in America rated as structurally deficient, our nation cannot afford not to act.  NABTU believes that Congress must come together and tackle this challenge in a bipartisan way: one that not only fixes our current infrastructure problems, but provides long-term certainty and sustainability to the Highway Trust Fund so that we prevent further deterioration from occurring.
Strengthens our nation's airport infrastructure to reduce congestion and increase safety.  NABTU supports bolstering programs such as the Airport Improvement Program and other existing funding streams which provide critically needed funding for the planning and development of public-use airports across the United States.
Increases funding for water projects that improve water quality and lead to increased economic development.  With many American drinking water and wastewater systems being over 50 years old, and in some instances, over 100 years old, NABTU supports repairing and replacing outdated systems through the greater utilization and funding of the Clean Water and Safe Drinking Water State Revolving Funds.  Further, NABTU supports fully funding WRDA and WIFIA programs to make needed repairs to our waterways across the country.
Retrofits our public buildings to make them energy efficient.  NABTU supports making the needed investments that will lead to long-term operating cost savings while creating thousands of new jobs for building trades members.  Further, NABTU supports utilizing the existing, budget neutral Energy Savings Performance Contract and Utility Energy Service Contract Authority to jump-start this critical priority.
Strengthens our energy infrastructure to ensure the safe delivery of energy sources to cities, businesses, and homes.  There is no mistaking the fact that our current energy infrastructure, including generation, storage, transmission and distribution facilities, is inadequate to meet our current needs.  NABTU supports making the critical investments needed to modernize our energy delivery systems, from electrical grids to pipelines, as well as power generation facilities that ensure affordable energy for American consumers.
Increases investment in public infrastructure through innovative financing mechanisms such as Public-Private Partnerships (P3s) and a National Infrastructure Bank.  While not the entire solution to our infrastructure funding challenges, increased investment of private capital can augment investments from existing federal programs, alleviating some of the funding pressures faced by local, state, and federal agencies.  NABTU can also serve an investor, utilizing our pension assets to move projects, ensuring high labor standards on such projects and job opportunities for building trades members.
Invests in the future by building new schools.  According to the Department of Education, roughly half of American K-12 schools are in need of renovation, repair, and modernization.  NABTU supports aggressive investments to ensure our children can learn in a safe, clean environment
Cuts red tape by continuing to reform the permitting process.  Unfortunately, businesses and state and local government agencies seeking to undertake major capital projects often must run the gauntlet of numerous separate agency reviews and approvals. That process is plagued by a lack of coordination, few deadlines, insufficient transparency, and litigation exposure as long as 6 years after securing required approvals.  NABTU supports the permitting reforms included in the FAST Act, and calls for further streamlining procedures to ensure timely project delivery for both public and private infrastructure.
Protects the dignity of working Americans by maintaining hard-fought labor standards.  These standards, through either the consistent application of Davis-Bacon prevailing wage laws, the use of Project Labor Agreements in federal procurement, or strong Buy America provisions, strengthen the construction industry and lead to a more productive workforce with a high standard of living.
To learn more, please check out NABTU's Infrastructure Policy